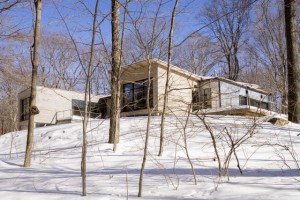 Set on the top of a hill overlooking a fast-moving stream, the existing house was a 1960's modular. The house had low ceilings, the window seals were broken and fogged, and the house had no real connection with the outdoors.
We removed all but the foundation since the property included some wetlands, but chose not to increase the footprint other than a 3rd bay for the garage.  Instead, we expanded the main floor with cantilevers into the trees, which gave the true feeling of living in a tree house. Our design included floor to ceiling windows throughout the house, quite literally connecting every room to nature.
The floor plan is open and filled with light. Doorways are open to the cathedral ceiling, and spaces share light from each other. The fireplace is surrounded by glass and the floors are a wide white oak board.
The exterior materials were chosen to be maintenance-free. Reclaimed metal that was manufactured into shingles, white cedar that was installed as a rain shield, closed-cell insulation, high efficiency mechanicals and LED lighting make this house a true sustainable, "green" house.