Choosing to build your house from scratch means having the opportunity to create the home of your dreams and the chance to create something totally unique to you and your lifestyle. With that tremendous benefit, however, comes the added burden of myriad different details and decisions. Chief among them is the design of your new construction home. The considerations are nearly endless, and the process can begin to feel overwhelming before you've even started. To help lighten the load, we've scoured the internet in search of design experts and asked them to contribute their best tips for choosing the right design for your new construction home. Whether you're in Houston or Newport, read on to discover design insights from the best of the best!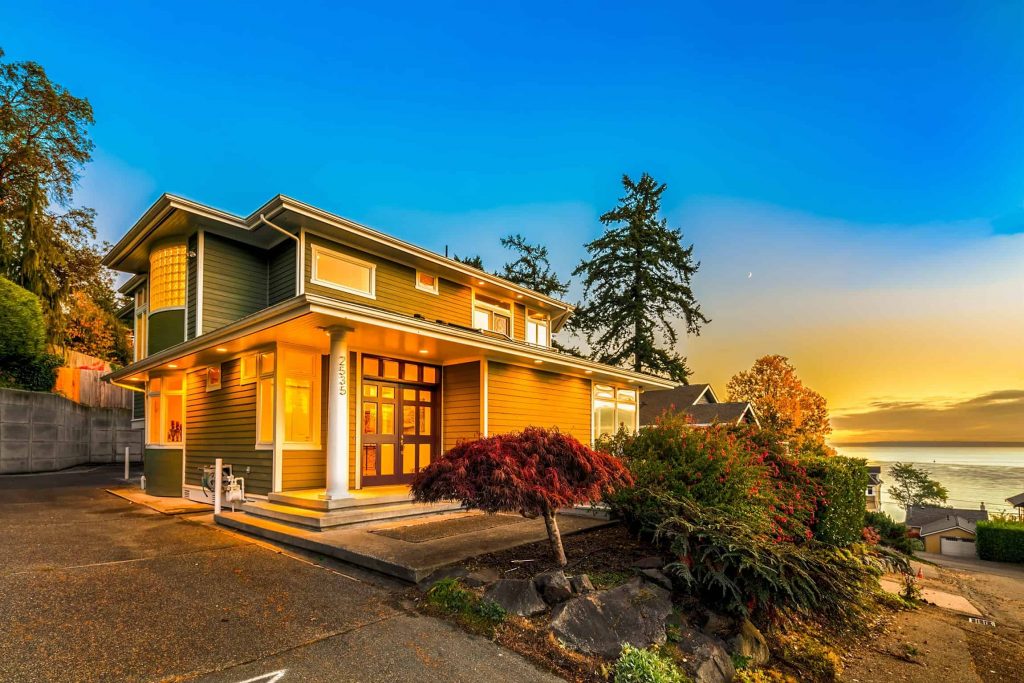 Timothy Giguere and Shannon Alther, TMS Architects / Interiors: Just because it can be done doesn't mean it should be done. Creating a focal point in a room can help define the space…not four major focal points. Other design elements should create a hierarchy for visual support and avoid morphing into chaos with too many areas to take in. Simple over busy typically translates to a more elegant design solution.
There are three critical parts to any project design. Budge, size (square footage), and style. The owner can pick two of these to influence but the architect needs the remaining one. Pick any two…
Jeff Kaufman, JMKA | architects – Westport,CT: Good Materials do not go out of style.  We look to create a timeless design that will appeal to multiple generations.
Douglas VanderHorn, Douglas VanderHorn Architects: Hire a good architect!  In the post-Amazon economy, buyers are bargain hunting like we have never seen before.  This often pushes people toward builder-designed spec homes that lack in quality and detail.  Your home is your shelter and your sanctuary that you build a life around; make sure it's a special place that you'll be happy to return to daily.
Terry Phelan, Principal Architect, Living Shelter Architects:
Consider the ways nature interacts with your site and how your design can respond to those gifts. This includes sun, wind, water, and trees.
Future-proof your home with energy efficiency that meets resilient 2030 code requirements and an accessible layout for life changes that can happen any time.
Be open to exploring a design that accomplishes your goals differently than you imagine, especially if it uses space and light more effectively.
If you have a large enough property to have a choice of building sites, consider building on the most unattractive spot and retaining the most beautiful to enjoy from your new home.
Thomas J. Towey, CEO, Komorous-Towey Architects: Designing a custom home is a rare opportunity. Take the time to think about how you want the new home to feel. Is it a clean, sharp look that lets you relax just being there, or richly detailed, warm wood enveloping the spaces? Think less about the number of rooms (the easy part) and more about the spaces inside. Raise your ceilings but watch out for hard-to-heat double-high spaces.
Katie Hoke, Principal, Porch Light Plans:
1. Set a realistic budget and schedule. The DIY shows are pure entertainment and do not reflect the amount of time and money required to fully execute a successful new build, renovation or addition.
2. Work with the professionals. The initial expense of hiring design, engineering, and skilled contractors will pay off in the end product when your project is realized on time and on budget.
3. Create a list of priorities. Everyone has a budget, what are the must-haves in your project and what items can be dropped. Communicate this with your partner and team at the beginning of the project so that everyone can work together towards the same goal.
Laura Cripe, Moss Design: An often overlooked area when designing homes is the connection to the outdoors and backyard space.
Whether it's an addition or a remodel, we like to think of the project as more of a convergence, a fusion of the yard space and the principle structure versus just an add-on. Many additions are often constructed without taking into account the complete vision for the house and its site as a whole. In our approach, we want to think of the entire property and its interior space as a comprehensive, cohesive project, utilizing the space so as to merge, flow, and connect with all the combined elements.
We focus on connecting the house to its available yard, often updating and installing floor-to-ceiling windows permitting the optimum amount of natural light to the interior and direct access to the backyard space for a better connection to nature and ease of access so it becomes more usable space.
Heidi Denney, Home Designing Service, Ltd.: Whether you're building a new home or renovating your existing home, many people believe they need an architect to turn their vision into reality. In Connecticut (and many states), a Certified Professional Building Designer (CPBD) is qualified to meet your needs often at a lower price.
Steven Perce, bldg.collective: Creating a home begins with tapping into ideas and memories collected over a lifetime and we urge clients to go beyond the simplest resources for inspiration and influence. Inspiration can come from anywhere- travel, childhood experiences, books or artwork. Try to remember that this is your home and a unique, well-designed home can inspire not only yourself but the community around it as well.
Meet with different architects. It's important to like the portfolio of work by the architect but also make sure you like him/her. You will be spending a lot of time with your architect, so a good relationship is key.
Check the portfolio of the architects you are thinking about interviewing. Do all the projects look the same, or do they look like they adapt their style to the needs of their client?

Every good project has a good story or narrative. Try to think of the one thing that is most important to you, whether that be indoor/outdoor living, visibility from one space to another, sustainability etc.

In order to get the best design results, it helps to choose a few pictures of projects you like. These can be abstract concepts such as light/air/openness, to specific features like front doors or stairs.

Try to bring in the contractor during the design phase. Their experience is invaluable and it's too late to make changes at the end of the design process. It's recommended to show the design to some contractors at the end of Schematic Design or Design Development to get an opinion of probable cost.
Christine Boles, Beausoleil Architecte: As the climate crisis intensifies, we all need to do all we can to build sustainably and use clean electric power generated on-site. Look for good solar exposure especially towards the south and west. Additionally, did you know that most homes lose 7-10 times the ENTIRE volume of air in the house every hour through small leaks at windows, electrical outlets, etc.? Ask your architect about new construction methods for air sealing.
Joshua Hogan, AIA, Hogan Architects + Development: Lighting is the most fundamental consideration when designing a custom home. Designing a building around solar orientation introduces many opportunities to utilize sunlight to create a vibrant and comfortable home.  Considerations such as the placing and sizing of windows or doors, and connecting interior and exterior spaces can fill a room with natural light that leads to positive health effects — it also has favorable thermal impacts on the building, helping reduce energy consumption.  For example, integrating landscaping elements such as a vine trellis or green wall provides dappled light as well as creates a thermal barrier to harsh sunlight.  Facade systems that are designed with solar orientation in mind can shield direct light and heat during certain parts of the day and provide soft, reflected light to fill a space.
Aric Gitomer, Aric Gitomer Architect: Are you looking to build a new home? Is this your first home? There is a big difference in someone creating their first home for their current
situation and whatever the future may hold such as a growing family, in-laws sharing your home, etc. versus a seasoned homeowner looking to downsize or upsize. Every future homeowner has a unique set of criteria to address in regard to their personal circumstances.
The key to a successful residential design is observation. Analyze your needs current and future and determine a hierarchy of must-haves, would be nice to haves, but not necessary. Once you have accomplished this epic task the communication with your architect is also essential to a successful outcome. The architect you select should be an excellent listener and interpreter as well as a negotiator between spouses at times. It is their job to create your vision by taking all the bits and pieces you feed them and realizing them into the design of your home.
Schwarz Lewis Design Group Inc.: Garage location and sun orientation are the two things that we look at first. Locating garages on the north or east side of the house will maximize light exposure and help create a sunlit healthy home.
Nikki Tubbs, Lead Designer, Regency Homebuilders: Trends come and go (quickly these days!), so it is important to fill your space with selections you love. Choose colors and finishes that make you light up when you see them and keep it overall neutral with pops of your favorite colors and/or textures. Remember, your home should be uniquely you—and that alone will make it spectacular!
Michael McLychok, Principal, Director of Design, Tropical Architecture Group: Since we specialize in Tropical Architecture, the most important thing for new homeowners to know is that designing for humid tropical climates is very different than for dryer climates. Considerations in material selections that won't mold, warp, peel off, or in general be high in maintenance are one of the first areas that make a difference in maintaining a tropical home and it's longevity. Another consideration is designing for good airflow. The way in which the home is designed should be open to the tradewinds to help keep the home naturally cool as well as for that a pool, BBQ, and firepit are positioned properly. Roof structures and lengths of eaves can also keep the sun off your home so that you don't have to constantly use air conditioning. Another typical mistake that people make is selecting appliances that aren't serviced on their island.
What we encourage is for someone wanting to design a home in the tropics, to work with an architecture firm that knows what works and what doesn't work for tropical climates.
Daniel Schmeling, Architect and President, Carbon Architects, LLC: Spend at least 30% of your time in the programming stage of design.  The more specific you can be about what you want/need (the problem you are asking your architect to solve), the more focused your architect can be during the design phase.  Programming is problem finding, design is problem-solving.
Elizabeth Peterson, Ames-Peterson International Architecture & Interiors: Our philosophy has always centered around having our clients work closely with their architect and project management team from day one so clients feel included in every step of the design process. This means regular design review meetings discussing plans together so we can best translate our client's fantasy into reality. Gone are the days of having one initial meeting with your architect and having your home mysteriously designed behind closed doors only to be underwhelmed with the result. This more efficient and collaborative design process empowers our clients while we guide them through the often complicated design and permitting process.
Joyce Owens, FAIA RIBA, Architecture Joyce Owens: When commissioning a custom home it is imperative to address the needs and budget of the client, the climate and the site. A good architect will specifically consider all of these issues, resulting in a project that is designed and tailored for the client and, more cost-effective, less hassle, and lower maintenance costs.
Michael Pelletier, Fairmont Custom Homes: Design Tip: Have an inventory of existing furniture and/or equipment you will be moving or buying for the home in design.
Site Visit: Be sure to invite the architect to visit the site. Not all architects/designers will offer to visit the site and we believe this is a crucial part of designing a home.
Francisca V. Alonso, Co-Founder and CEO, AV Architects + Builders: As architect-builders we have the ability to control the cost during the design phase and protect the design vision during the build phase. For our clients, this value gives them unparalleled peace of mind. They know upfront what the investment is going to be in their new custom home and they also know that they have the architect managing the project during construction. It's a turn key delivery with single-point of contact – no hand off.
It is very hard for our clients to imagine what their unique modern home will look like by just looking at plans and elevations. To avoid surprises in construction that can lead to change orders which no one likes, we use a 3D software tool that allows our clients to virtually tour their home before it's built. This helps them visualize the home when in the design phase. It also helps our build team price the home accurately as they see the 3D Model of it upfront.
Gerrit Szeszycki, MEng, Architectural Designer, Brightleaf: I really feel like people are more worried about their resale value. They need to put what they want into their dream home, instead of worrying about what others want when they sell it.
Forget the trends. Do what you love. Follow your heart and make your home an extension of your personality.
Rosario Mannino, AIA, Mannino Architecture + Design: First, think about the big picture; the neighborhood, the lot, and unique site characteristics. Then, focus on all facades, not only the front in isolation; evaluating solar orientation, use, and privacy. Finally, you are ready for details; considering material authenticity being true to its form and function.